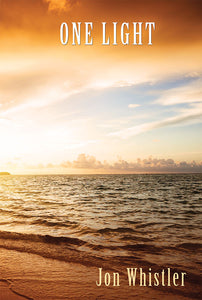 One Light by Jon Whistler
Regular price $12.00 Sale
Also available instantly as an eBook
  Read a Free Chapter Now!
The first book in this series by Jon Whistler.

This is a factual story of an astonishing revelation as experienced by the author and two companions who inadvertently discovered a module buried in the ground. Its message is recorded in this book.

You will discover the answers to your deepest questions. You will learn of the true nature of your being, and of your purpose here on planet Earth.

You will learn also of the great illusion - what it is and why it is responsible for all the miseries of Mankind and the Earth.

The revelation of ONE LIGHT is not merely an astonishing one - it is FREEDOM ITSELF. It will free you from all the oppressions and all the binding chains of this world. It will help you to find freedom from old voices and guilts, and will release you from the fear that plagues our planet.


Publisher: Light Pulsations, LLC
Pages: 202
Size: 9 " x 6 " x 0.5 "
ISBN 10: 0996744134
ISBN 13: 978-0996744133