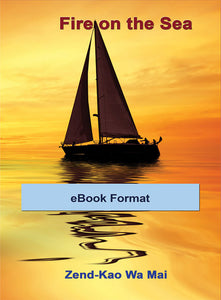 eBook - Fire on the Sea
Regular price $12.00 Sale
  Also Available In Print

  Read a Free Chapter Now!

eBook Version
Fire on the Sea
By: Zend-Kao Wa Mai

Foreword by Jon Whistler
Author of One Light

When the whole world is a lie, where do you go to find TRUTH?

Marek de Ravana was born to inherit great wealth, power, and worldly influence, yet he finds himself on the run when he turns his back on all of these.

Doted upon by his older brother, the powerful and famous Baron, who has groomed and trained him as a natural successor, Marek discovers that the shadow his brother casts is an ominous and terrible one. He also discovers that his own true power is something far brighter, for it is the power of his own being - his Light.

But when Marek rebels, his brother reacts swiftly and fiercely, so Marek must run. On a journey spanning nearly seven years Marek comes to live in the Light of his own truth and discovers that the Light is Love... and that Love heals everything...

However, his brother will not rest until he has tracked him down...


This exciting story, in novel form, is a visionary journey we can all identify with. Regardless of the fictional circumstances, our journey is the same, for in our own opening to light the way is not always clear to us and the path is not always smooth, and there are forces at work which would keep us in darkness always. Nevertheless, it is the only journey worth making, and it is ours if we want it.


"As an opening into personal Light it is a book of the Earth and part of our collective remembrance of our Light" - JON WHISTLER


Downloadable as a PDF file for most eBook readers.